If you're interested in having the most popular nail driving entertainment service in the world appear at your event, you've come to the right place!
As entertainers, we are paid to appear. Our appearance fee is for a single and all-inclusive service: our setting-up, our engagement with and oversight of participants, and our providing of fun branded promotional materials like the ever popular Hammer-Schlagen® Drinking Glove™!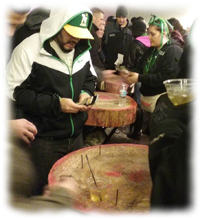 When your event is finished, we tear-down and ship out. Just in case, we carry several million dollars of general liability insurance and can name your carriers as additionally insured at no additional charge (if they require)[1]. It is no wonder why we are a preferred provider of amusement nation-wide!
At least half of our clients ask us to charge their attendees to participate in our Hammer-Schlagen® brand of entertainment. In these cases, we will deliver these participation fees to you, or another entity of your choosing, about 2-weeks following the conclusion of the event. (Other financial arrangements can be made depending on the specific circumstances of your event. In some instances, you might even qualify for sponsorship.)
We provide amusement and entertainment to millions of people at hundreds of events across the United States, and yours could be next. If you want the public talking about how they saw our well-known Hammer-Schlagen® trade dress at your venue, contact us today!
---
Any unauthorized use of our Hammer-Schlagen® brand (including the use of our trade dress) is strictly prohibited! A trademark owner victimized by the willful counterfeiting of their trademark may be awarded up to $2,000,000 in statutory damages per unauthorized use as described in 15 USC § 1117(c)(2).