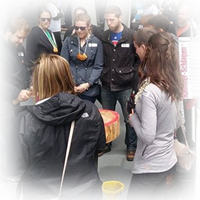 Through our direct vending and exposure to hundreds of thousands of people each and every year, it is no wonder why our Hammer-Schlagen® nail driving competition is the most popular in the world! By replicating our business model, our franchises are able to benefit from not only the goodwill our Hammer-Schlagen® brand has established, but also the experience we obtained through our several decades of operating Hammer-Schlagen®. Our franchising system is extremely straightforward:
Benefit Detail:

The right to use and profit from the Hammer-Schlagen® brand, including our trade dress.
A free initial training program, and additional training throughout the term.
No charge for ongoing advice and counsel.
Access to confidential trade secrets; sales techniques, servicing, and the like.
Pertinent, existing, and pre-drafted contracts are made available to you.
Ability to increase authority to vend if and when you decide to grow.
Royalty exemptions on certain gross revenues.

Contract Detail:

5-year renewable term.
Variable franchise fees between $500 and $10,000, depending on your activity.
Operation is governed by our franchise operations manual.
Purchase a franchise starter package, then other materials and supplies as you go.
A royalty of 10% on revenues, and reporting just 4 times annually. (Over the term, revenue up to twice the franchise fees paid may be exempt from the royalty.)
Unlike other franchisors, we exempt certain revenues from being subject to the royalty (such as sales taxes collected). And, there are no requirements to advertise, join cooperatives, attend conventions, or contribute to a brand building fund! Depending on your activity, starting a Hammer-Schlagen® franchise costs between $875 and $12,750 in franchise fees paid to and supplies purchased from us (relatively inexpensive compared to other brands). You may experience other costs related to starting a business, such as state organizational filings, tax permits, insurance, and the like.
If you are interested in using any element of the Hammer-Schlagen® brand, you are required by law to obtain our permission. To request a franchise, please complete an application. (Under certian conditions, we might refuse to offer a franchise to you.)