A Childrens' Nagelspiele
Our story starts with a boy named Carl Schoene. At a young age, Carl played a game with his friends using nails and an ax in his native home of Germany. This game began with someone challenging others, as kids do, by what is commonly referred to here in the United States as a "dare." During the nail game, each player competed against one another by taking turns swinging an ax at a single nail pounded into whatever was available: an old tire; the dirt; a wall; or the side of a fallen pine tree. When the nail was countersunk, it was pulled out and a new game started with the person finishing the previous nail exempt from play. The process continued until a single player remained, who was then bound to do a predetermined chore. (In German, the generic word "Nagelspiele" means, simply, multiple games using a single nail; it is not specific to this childrens' past-time, but was often used due to the nature of the German language; for example, "Wir spielen eine Nagelspiele" means we all play games with a nail.)
Carl's Nägelspiel
In 1957, Carl immigrated to Saint Paul, Minnesota, along with his parents (Karl and Elizabeth). With him came the game, which he soon after modified to make his own: a cross-peen hammer was substituted for an ax; each player was given their own nail; and the nails were driven into the perimeter of a tree stump. Carl's family built a restaurant just West of Stillwater, Minnesota (the Gasthaus Bavarian Hunter). When Carl was not handling his duties at the restaurant, he would challenge others to a Nägelspiel both at the Gasthaus and abroad. (The German word "Nägel" is plural for "Nagel," and "Spiel" is singular for "Spiele:" thus, "Nägelspiel" means a single game played with multiple nails.)
Carl would often use his brand in an attempt to sell beer, the loser being bound to purchase a round at his restaurant for the winners. Throughout the year, Carl's brand would be present at the resturant's Maifest, Sommerfest, Oktoberfest, and Winterfest celebrations. To ensure the safety of Gasthaus patrons, Carl's Nagelspiele would be watched over; sometimes by Carl's father-in-law, Mike Wlaschin, or Mike's friend Jim Broderick when he was home on military leave.
Mike's Hammer-Schlagen™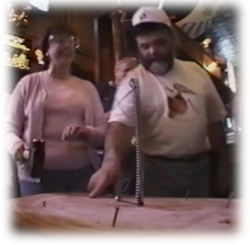 Sometime in the mid to late 1980's, Mike took over Carl's brand of nail driving competition. Not only did Mike standardized the use of cottonwood cross-sections and 16d common bright nails, but also gave it the Hammer-Schlagen® name. (The German word "Hammerschlagen" is a verb meaning, loosely, to beat with a hammer; in example "Sie Hammerschlagen mich" means "you are beating me with a hammer." Our trade name is a variation of this German compound.) To turn the service into a viable business, he changed the goal to be the first to pound in one's own nail. At this point, Carl's brand reached farther than just being some well-known local tradition: Mike brought the brand to rural Minnesota and parts of Western Wisconsin.
WRB's Hammer-Schlagen®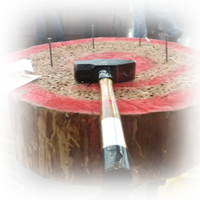 In 1999, WRB, Inc. was organized under the laws of the State of Minnesota in which Mike vested all of the intellectual property of Hammer-Schlagen®. Mike enlisted the aid of his lifelong friend, Jim (who is credited with engaging in our service while traveling overseas in Europe and Asia with the US Army). The pair picked up a third partner, an acquaintance of Mike's daughter Kate named Jim ("Jimmy") Martin. In the year of our founding, the three hatched a plan to spread Hammer-Schlagen® operations further throughout Minnesota, Wisconsin, South Dakota, and into Florida. A business needs a logo, and Hammer-Schlagen® was no exception. Prior to our re-organization, the youngest of Mike's daughters, Karen, drew up a wonderful picture depicting our trade dress (which you can find in the upper left of this screen). While working at a Halloween party in St. Paul on a Friday night in 2000, Kate and Jimmy started using fun little slogans to promote of the service ("Get Hammered," "Get Nailed," and "Got Wood"). The next day, Kate printed those slogans on stickers and the pair used them at the Halloween Party that night[1]. Under Carl's trade dress, Mike's trade name, Karen's logo, and Kate's slogans, our Hammer-Schlagen® nail driving competition made appearances at motorcycle rallies, music festivals, county fairs, special events, and many other venues throughout the United States.
In Memorandum
In 2003, Carl Schoene passed away though his spirit still lives on at the Gasthaus. This was followed by Jim Broderick's passing[2] in 2008 from cancer. We hope the memory of those who planted the seeds of Hammer-Schlagen® will long be remembered in our legacy.