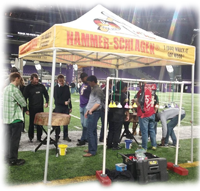 If you're interested in having the most popular nail driving game in the world that started in Minnesota over 65 years ago appear at your event, you've come to the right place!
As entertainers, we are paid to appear. Our appearance fee is for a single and all-inclusive service: our setting-up, our engagement with and oversight of participants, and our providing of fun branded promotional materials like the ever popular Hammer-Schlagen® original Drinking Glove™! When your event is finished, we tear-down and ship out. Just in case, we carry several million dollars of general liability insurance and can name your carriers as additionally insured at no additional charge (if they require)[1]. It is no wonder why we are a preferred provider of amusement nation-wide!
Current Rates:[2]

---

First Stump:
$150/hr
Each Add'l Stump:
$75/hr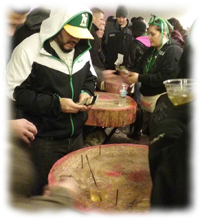 We provide amusement and entertainment to millions of people at hundreds of events across the United States, and yours could be next. If you want the public talking about how they saw Minnesota's well-known Hammer-Schlagen® Stump at your venue, contact us today!
Terms of Booking
If you choose to book us, an invoice will be issued to you and a reservation will be made on our calendar. You will then have 30-days to provide payment in full to secure your booking, failing which your reservation will be released without notice to you and we will not appear at your event. After you secure your booking, you may use our corporate seal, our condensed seal, and our stylized name graphic to advertise our appearance.
Except in cases of governmental interference with your event, the payment of the invoice is non-refundable. If the date(s) of your event changes, we will make every attempt to provide service on the new date(s), but our appearance is not guaranteed as a scheduling conflict may exist with another booking.
Some of our clients ask us to charge their attendees to participate in our Hammer-Schlagen® brand of entertainment. In these cases, we will deliver these participation fees (currently recommended to be $4) to you, or another entity of your choosing, about 2-weeks following the conclusion of the event.
Please keep in mind that if you choose to purchase our miniature home kit, you may not use it in commerce[3] without first obtaining our permission. If you are interested in using our miniature home kit for any commercial purpose, please contact us.
---
| | |
| --- | --- |
| Any unauthorized use of our Hammer-Schlagen® brand (including the use of our three-dimensional Stump) is strictly prohibited! A trademark owner victimized by the willful counterfeiting of their trademark may be awarded up to $2,000,000 in statutory damages per unauthorized use as described in 15 USC § 1117(c)(2). | The unauthorized reproduction or distribution of a copyrighted work is illegal. Criminal copyright infringement, including infringement without monetary gain, is investigated by the FBI and is punishable by up to five years in federal prison and a fine of $250,000. |